Looking for something to read? Why not try one of our December best sellers?
#1 Taking Time and Keeping Time (tie)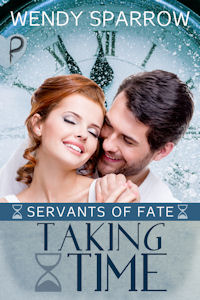 Tempus fugit. Time flies…unless you're Tempus Halt, Father Time's son. Day in and day out are the same, except for New Year's Eve when he steals the life of a mortal on behalf of the Fates. This year marks his first failure to stay the monotonous course. A mortal's kiss and her insistence on taking the place of his year's sacrifice stalled out everything. Now, Tempus has to keep her alive for a year so his sacrifice isn't wasted, but that's the only reason—definitely. One of these crazy grim reapers stole Lacey Carpenter's estranged father's life two years ago. She'll give her own life rather than letting it happen again. It backfires when Tempus doesn't actually kill her, and they have to spend the year together. She's falling for an immortal who stops time, not just to save her life, but also to ruin her dates and steal her books. This can never work and fate is just not on her side—in fact, they'd really like her dead before Tempus falls for her in return.
When Ruin's mortal sacrifice to the Fates on New Year's Eve is already dying, it should be the easiest life he has to take, but not this year. The dying man knows Ruin is there to kill him, but he asks Father Time's son to look after his twin sister. Ruin can't stay away from the sweet and sensual Phoebe. His previous interactions with women changed the definition of his name, Ruin, so he can't fall for her, especially when the lovely mortal doesn't know he killed her brother. Phoebe's brother promised to send her a guardian angel, but Ruin seems too devilish to be holy. He only wants to be friends and keep watch over her, but she can't resist him. Loving Ruin is a sin tempting her heart. How wrong is it to cause an angel's fall? Ruin and Phoebe's time is running out as another New Year's Eve sacrifice approaches, and Ruin might lose everything for keeping his true hand in fate secret.
After her husband walked out on her, leaving her to provide for their daughter alone, Joe has no intention of relying on a man for anything ever again. As a successful tattoo artist, she can take care of what's hers. The only thing she needs is a little fun every now and again. And if a gorgeous man offers her exactly what she needs, if they both know what they're getting into, it can't get messy, can it?
#3 INKurable, INKonsolable, Transformed, Rough Edges (tie)
Phee has breast cancer. As heart-breaking as it is, she's determined to be strong so her friends don't worry. They're a family, so if she hurts, they hurt, and she can't allow that. But when lines start to blur between her and her handsome surgeon, trying to hold everything together suddenly feels like the real fight.
It's been five years since Blakey's beautiful wife Elizabeth died and his grief is just as sharp today as it was back then. But now he's desperately lonely too. As he becomes closer to his friend Aisleyne, Blakey fights it with everything he has. How could he even think about moving on? No, friendship is all he has to offer. That will have to be enough.
Nothing is quite so deliciously freeing as caving to your instincts. For centuries, shapeshifters have personified our impulse to bow to our animalistic nature. From lycans to skin-walkers and everything in between, shapeshifters give us a chance to connect with our inner-selves and celebrate our intriguing differences, our passions, and ultimately our humanity through their necessity of striking a balance between their human selves and supernatural selves.
Featuring stories from Trece Angulo, Meg Archer, Gretchen Bassier, Jaap Boekestein, Nancy Canu, Clint Collins, Michael M. Jones, Liz McAdams and Nidhi Singh.
Nothing is sexier than someone who knows what they want and has the confidence go after it. This anthology is crammed full of hot romances featuring those kinds of rough-around-the-edges alpha personalities–stories about the kind of men and women who ride horses during the day and their partners at night, who speak few words but mean every one of them, and who would never break their own personal code of honor. We're talking about cowboys and cowgirls. This anthology contains seven romances with a Western theme that run the gamut from sweet to sizzling.