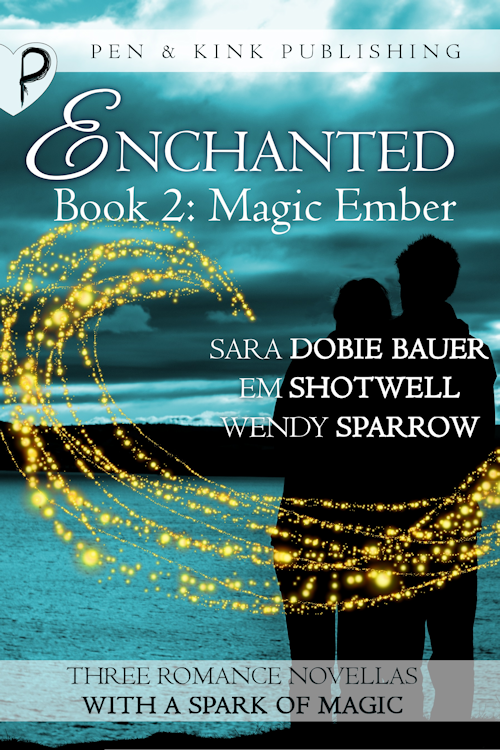 The second of a trio of trilogies by three amazing romance writers. These stories all have two things in common: magic and romance!
"How to Capture Your Match" by Wendy Sparrow:
Being the demigod of pain and a bounty hunter in Vegas have made Corbin Slone very aware of one truth: they always ran. When his match, the demigoddess of healing, kissed and ran, they had a problem. Without some very close time together, they'd both die. In that respect, he had no choice but to abduct Tam for a courtship. Tam might be into Corbin, but demigods? The guy was hot, but Corbin was no mythical god, even if he kissed like one. Love might heal the pain of a demigod's lonely existence, but was it worth the gamble?
"Destiny's Dark Light — Part Two" by Sara Dobie Bauer:
The love story of Cyan and Liam continues. Due to the violent arrival of a dark witch in Charleston, Cyan's powers awaken. She is the foretold white witch, fated to save the world, but her skills must be honed with the help of her powerful family. Liam fears the loss of his beloved Zoe while feeling strangely connected to Cyan. His entire life is turned upside-down when wicked witches involve him in the forthcoming War. The search for a dark witch intensifies, as do questions surrounding Liam's past.
"This Hollow Heart" by Em Shotwell:
New Orleans witch-turned-tattoo artist, Marchland Murphey's bad luck with men has led her to swear off love for good. When mysterious client, Chase Kimberley insists she go out with him, she says no, but soon finds herself tumbling into his bed. At first things are great, and Marchland thinks Chase could be the one to turn her bad luck around.
Until Chase's pregnant wife shows up demanding an explanation. The women compare notes, and with the help of Marchland's magic conspire to teach Chase a lesson he won't soon forget.
But Magic has a mind of its own, and while Marchland struggles to deal with the consequences of a spell-gone-bad, she could miss out on the possibility of a good thing with favorite client, sweet single-dad, Samuel White.
"Rarely do I find a sequel to be better than the original. In the tri-storied Enchanted series it does for all three tales. Exciting, suspenseful, rapidly paced with wild turns, I love Magic Embers.
Magic HOW TO CAPTURE YOUR MATCH: A DEMIGOD'S SURVIVAL GUIDE follows Corbin, demigod of pain, as he chases bail jumpers, then prepares to die before a young nurse reveals remarkable healing abilities. Of course he must abduct his comatose, nearly dead match before he combusts and she fades. Their snarky banter is delightful.
THIS HOLLOW HEART involves the youngest of the sisters as her magical tattoos bring joy, confidence, healing, and protection. More is revealed about their past, sisterly love and deceptions, concealed hurts. When her new chance at romance brings betrayal and deception, even abuse, she seeks the greater magic of the three as her solution, and again it is performed at the wrong phase of the moon, with disastrous results.
DESTINY'S DARK LIGHT: PART TWO continues revealing Cyan's evolving powers and the path to war. The unexpected twists and surprise turns, the opening battle between light and dark witchcraft, and the loving interference of her family left me breathless.
All three stories are so unpredictable, just amazing reads."
"This is the second book in the series and is a smooth continuation from 'Magic Spark'.
The stories just get better and better. Exciting, fast paced, full of suspense with many twists and full of surprises, the Authors have written unpredictable tales from the same world but with totally different characters.
The cast of characters, main and secondary, are well thought out and well developed and evoke all sorts of different emotion from the reader.
Well written, these amazing stories are entertaining, have intrigue, magic, humour and much more and continue to hold and capture the reader's attention. Recommended!"
"I am so in love with these anthologies that each story has that spark of magic but are all different at the same time."
"These authors know what they're doing. They know how to give and give but they also know how to take it away. They're evil geniuses!"
Always be among the first to know!
Whether it's a new release, a call for submissions, cover reveal or super sale you will always be among the first to know if you sign up for our mailing list. What's more, we won't clutter your inbox with stuff you don't care about--we will only email you when you we have something exciting to share, probably less than once a month.
Word Count: 70,000
Kink Level: Vanilla
ISBN: 978-1-988233-29-1 (physical)
ISBN: 978-1-988233-30-7 (electronic)