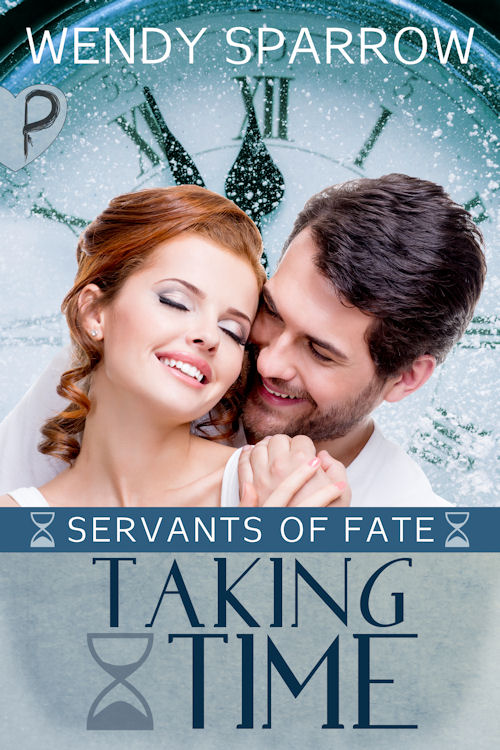 Tempus fugit. Time flies…unless you're Tempus Halt, Father Time's son. Day in and day out are the same, except for New Year's Eve when he steals the life of a mortal on behalf of the Fates. This year marks his first failure to stay the monotonous course. A mortal's kiss and her insistence on taking the place of his year's sacrifice stalled out everything. Now, Tempus has to keep her alive for a year so his sacrifice isn't wasted, but that's the only reason—definitely.
One of these crazy grim reapers stole Lacey Carpenter's estranged father's life two years ago. She'll give her own life rather than letting it happen again. It backfires when Tempus doesn't actually kill her, and they have to spend the year together. She's falling for an immortal who stops time, not just to save her life, but also to ruin her dates and steal her books. This can never work and fate is just not on her side—in fact, they'd really like her dead before Tempus falls for her in return.
"Even though we see some familiar places and characters in TAKING TIME, our starring couple make this story a unique and satisfying installment all their own — and I can't wait to dive into Servants of Fate #3!"
"Wendy Sparrow is quickly becoming a favorite of mine, and her newest endeavor, the Servants of Fate series, doesn't disappoint. These swoon-worthy, yet quirky romances race the clock and challenge the fates to find their Happily Ever Afters. Five Glittery Stars."
"Where the prior release was sweet and heartwarming, I found this to be a more tender and yet tormented, emotional, and tumultuous heart-wrenching of a telling. And I loved every moment of it."
Always be among the first to know!
Whether it's a new release, a call for submissions, cover reveal or super sale you will always be among the first to know if you sign up for our mailing list. What's more, we won't clutter your inbox with stuff you don't care about--we will only email you when you we have something exciting to share, probably less than once a month.
ISBN (paperback): 9781988233116
ISBN (electronic): 9781988233123
Series: Servants of Fate
To request review copies or schedule a review, interview or other feature please contact press [at] penandkinkpub.com