Small Press Week is an event conceived of and organised by Upper Rubber Boot Books to "talk about exciting new releases, classic back-catalog titles, and what makes small press publishing so fearless, intimate, creative, and heart-warming". This is day three where we are encouraged to shine a spotlight on all our 2016 new releases.
Who would say no to a chance to highlight all the great titles we've released in the past nine months? Uh, not us!
Let's begin with our most recent releases, Wendy Sparrow's amazing Servants of Fate series!
As servants of Fate, Father Time's sons must sacrifice a mortal's lifetime on behalf of humanity before each year ends. It's simpler if they don't get involved, as their immortality is a barrier to relationships and to understanding the emotions of those whose lives end in a blink, especially if these time holders have a hand in it. Servants of Fate pass in and out of the lives of those around them, never interacting, until a different type of fate steps in. They can stop time, but love will leave them powerless.
Stealing Time
Father Time's son, Zeit Geist, must sacrifice a mortal's lifetime to the Fates each New Year's Eve. Last year—inexplicably, really—he made an 11:59 substitution. The Fates are pissed and they're after his mortal Hannah. With the year ending, he ought to figure out why he'd saved her—and why he keeps doing it.
Following an unlucky year, Hannah Lyons needs a week's holiday in a lodge to unwind. What she gets is near-death experiences and a sexy immortal who can't avoid kissing her, but might have to kill her. After all, even Zeit can't hold back time indefinitely.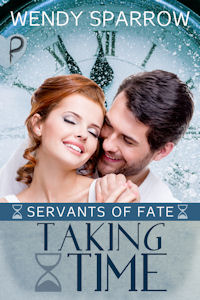 Taking Time
Tempus fugit. Time flies…unless you're Tempus Halt, Father Time's son. Day in and day out are the same, except for New Year's Eve when he steals the life of a mortal on behalf of the Fates. This year marks his first failure to stay the monotonous course. A mortal's kiss and her insistence on taking the place of his year's sacrifice stalled out everything. Now, Tempus has to keep her alive for a year so his sacrifice isn't wasted, but that's the only reason—definitely.
One of these crazy grim reapers stole Lacey Carpenter's estranged father's life two years ago. She'll give her own life rather than letting it happen again. It backfires when Tempus doesn't actually kill her, and they have to spend the year together. She's falling for an immortal who stops time, not just to save her life, but also to ruin her dates and steal her books. This can never work and fate is just not on her side—in fact, they'd really like her dead before Tempus falls for her in return.
Keeping Time
When Ruin's mortal sacrifice to the Fates on New Year's Eve is already dying, it should be the easiest life he has to take, but not this year. The dying man knows Ruin is there to kill him, but he asks Father Time's son to look after his twin sister. Ruin can't stay away from the sweet and sensual Phoebe. His previous interactions with women changed the definition of his name, Ruin, so he can't fall for her, especially when the lovely mortal doesn't know he killed her brother.
Phoebe's brother promised to send her a guardian angel, but Ruin seems too devilish to be holy. He only wants to be friends and keep watch over her, but she can't resist him. Loving Ruin is a sin tempting her heart. How wrong is it to cause an angel's fall? Ruin and Phoebe's time is running out as another New Year's Eve sacrifice approaches, and Ruin might lose everything for keeping his true hand in fate secret.
The first of what we intend to be many anthologies to be released by Pen and Kink also came out this year. Rough Edges is edited by Cori Vidae and contains the work of seven incredibly talented writers.
Nothing is sexier than someone who knows what they want and has the confidence go after it. This anthology is crammed full of hot romances featuring those kinds of rough-around-the-edges alpha personalities–stories about the kind of men and women who ride horses during the day and their partners at night, who speak few words but mean every one of them, and who would never break their own personal code of honor. We're talking about cowboys and cowgirls. This anthology contains seven romances with a Western theme that run the gamut from sweet to sizzling.
Last, but certainly not least, we have a handful of titles by Cori Vidae. Since Cori runs Pen and Kink these are actually self-published titles and are somewhat separate from the work we publish by other people. Separate, but equal. As we said in yesterday's post–we're nontraditional, but it works.