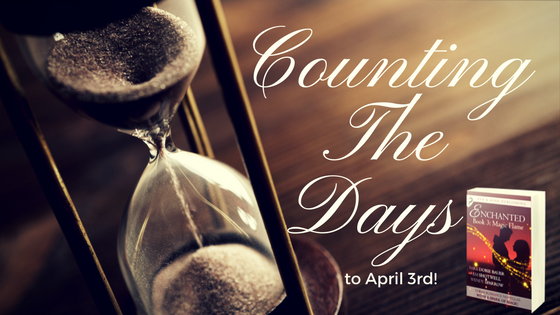 It's my turn to talk a bit about the Enchanted series which is both exciting and daunting. It's exciting because I love these stories but daunting because I am their editor, not their author which shifts my perspective dramatically… and also because I didn't know what to talk about.
So I'm just going to talk about the stories, because they are the stars of this whole project and sometimes that can get a little bit lost once we begin marketing.
There are three authors involved in this project and they each bring their own unique style, skillsets and favourite themes to the books. The resulting diversity in the stories makes for an exceptional collection that I'm extremely glad to be a part of.
So here are my thoughts on each author's work, or, in short:
Why I Love These Stories
By Cori Vidae
Wendy's Stories
I was introduced to Wendy's work through Stealing Time — the first book in the Servants of Fate series about one of Father Time's sons who falls in love with a human. Wendy's stories in the Enchanted series have a lot in common with those in the Servants of Fate series. First of all, they are sweet. In romance and erotica 'sweet' can simply mean there is no explicit sex scenes, and Wendy's Enchanted stories are sweet in that way, but they are sweet in another way as well. They have a sort of innocence to them, to the plots and especially to the characters. Each of them is sort of clueless in their own adorably sweet way. That, coupled with her awesome dialogue skills, is what draws me into her stories again and again and again.
Em's Stories
Em's stories were the biggest challenge in this series, but the bigger the challenge the bigger the reward, right? These stories are about relationships, not just romantic relationships but familial ones and friendships as well. Like most relationships they have aspects of light and darkness, surface-level attachments and hidden depths, and like 
everywhere, not all the people in them are nice. Or likable. Or someone you'd want to hang out with. More than once while I was editing these stories I'd have to email Em and say, "Uh, can we dial back the darkness just a wee bit?" (which, if you know me should tell you something). I think it says a lot for her storytelling skills that she managed to address the issues I brought up in my emails while staying absolutely true to the stories she wanted to tell. The complexities and moral ambiguity in these stories will stay with you a long time after you're done reading.
Sara's Story
Sara is a bit of a badass and a rebel (and I mean that in the best possible way), as evidenced by the fact that subheading says 'Sara's Story' not 'Sara's Stories'. Sara was supposed to send me three connected novellas but instead she sent me three novella length sections of a single longer story but, remarkably, each of those sections contains its own arc. Sara's story is gritty, but with hints of sweetness that keep it from becoming too heavy. It's about true love and destiny, family and magic. It's got loads of twists and turns and though you might see some of them coming, I bet you won't see them all. And the powerful conclusion will blow you away.
Cori Vidae has over fifteen years experience in various roles in the publishing industry. In addition to Pen and Kink Publishing, she currently runs a micro press specializing in another genre–one within which she is an award-nominated poet and hybrid author.
In the past, she has used various pen names to provide top notch erotic story content to some of the biggest names in the adult entertainment industry, written well-reviewed erotic novels, worked as an editor for a romance small press and even, once upon a time, was a cover model.