Transformed Submission Wishlist
Charlie Watson
Hello, World! Or rather, hello all of my wonderful "Transformed" authors. Charlie here. I'm going to spend the next few minutes giving you a rundown of how to navigate the three ring circus we call the slush-pile. It can be difficult to differentiate yourself from the competition, but knowing what the editor is looking for definitely helps your piece float to the top.
So, let's get to know each other. Like most angst ridden teenagers, I went through a phase many years ago where brooding eyeliner and disenfranchised werewolves held a particular appeal. While my eyeliner may be a bit more professional these days, my love for the seedy underbelly of the supernatural world is still going strong. I would love to publish the stories of shape-shifters who don't quite belong to either world—who are forced to find their own way because both the natural and supernatural worlds reject them. I would love to read about the explosive chemistry that boils between characters on the fringe. Give me unusual supernatural. Give me those outcast from the outcasts. But most of all, give me forbidden passion. I love a good old fashioned "come to the dark side, we have cookies" narrative.
I also have a soft spot for the unique. Don't get me wrong, I love werewolves, weretigers, and werebears (oh my!) but I also love to see people pushing the envelope a bit. There are so many exotic animals and untested species out there that, when mixed with human impulse, a bit of shifty magic, and a strong backstory, could prove to be just as or even slightly more interesting than your classic "bitten by a wolf while jogging in Central Park" trope. Write me a story where a man from an ancient band of alligator men has a torrid affair with a local fisherman. Write me a story where a shark-shifter must wrestle with her dark feelings for the beach lifeguard. Essentially, write me a story that has unique, well developed plot elements peppered between hot and passionate sex.
Speaking of sex, there are no holds barred on sexual descriptors, choice of gender, or sexual preference. As long as your piece remains respectful of all of our small uniquenesses and doesn't toy with heavy sexual violence, then have at it. The more variety, the better. Just please keep in mind that Pen and Kink is very proudly a discrimination free publisher.
I'm wracking my brain to see if I've left any helpful piece of advice out and I'm coming up blank. One of the most important things to remember is that I love unique perspectives and unique cultures. It's also incredibly important to remember that the story must survive on its own regardless of the sex. Don't get me wrong, steamy sex scenes are a must, but your characters and their development must be able to exist without completely stretching the bounds of plausibility,
Most importantly—have fun!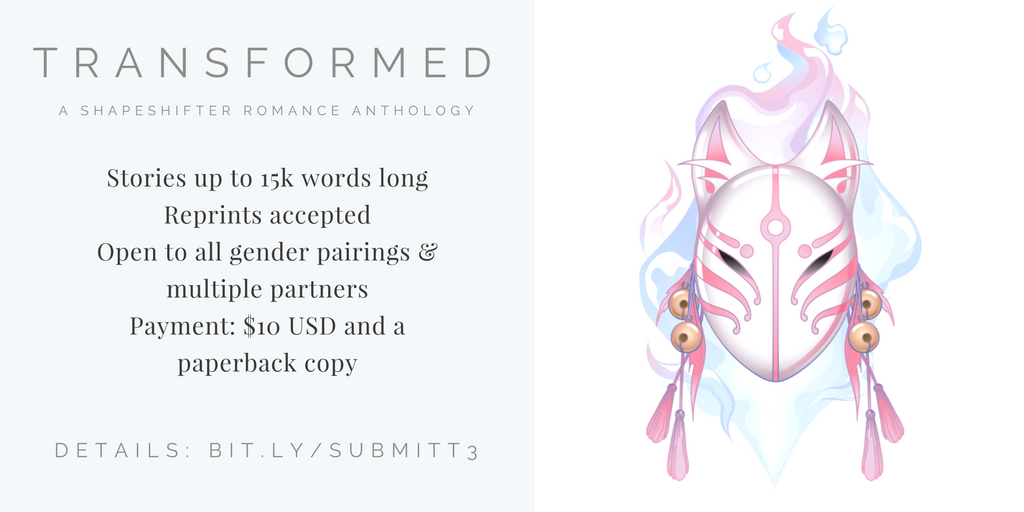 Transformed Call For Submissions
Release the monster within.
Nothing is quite so deliciously freeing as caving to your instincts. For centuries, shapeshifters have personified our impulse to bow to our animalistic nature. From lycans to skin-walkers and everything in between, shapeshifters give us a chance to connect with our inner-selves and celebrate our intriguing differences, our passions, and ultimately our humanity through their necessity of striking a balance between their human selves and supernatural selves.
We are seeking romantic and heated stories that delve into the different challenges all shifters face while navigating the mysterious paths of love and forbidden attraction.
Transformed will be an exploration of our dark side through characters that challenge the human experience by simply being different. We would love to follow the tale of a misunderstood lycan just trying to find his true place beside the woman he loves. We want to experience the angst of a pair of shapeshifting lovers who must fight against their curse to shift into predator and prey every lunar cycle. We would love for you to explore the endless undercurrents of romance, intrigue, and passion that bubble under the surface of not only human and shapeshifter relationships but also those of star-crossed shapeshifting partners. Give us your misunderstood werewolves and gentle fawn-folk. Build us a world where anything goes and the term "humanity" is a loose distinction. We would love for you to write with passion and energy, but please keep violence to a respectful and tasteful level. All heat levels accepted, but strong emphasis on plot is a must if you wish to succeed.
The details:
Stories between 1,000 – 15,000 words long (query for longer)
Reprints accepted but not preferred. When submitting a reprint include information about its original publication in your submission email.
Open to all gender pairings and multiple partners
Simultaneous & multiple submissions = No
Payment: $10 USD and a paperback copy of the anthology in exchange for the non-exclusive right to include the story in both the print and electronic versions of the anthology.
Open Submission Period: June 1st, 2017—August 31st 2017.
To submit: Please submit a .doc or .rtf in something approximating standard manuscript format to charlie.watson.editing@gmail.com
About the Editor: Charlie Watson is a freelance editor ready to make her mark on the Edmonton writing community. Through her work with various writing and editing groups around YEG who deal exclusively with first time authors, Charlie is devoted to ensuring that fledgling authors have a wonderful experience publishing for the first time.
About the Series: Triskaidekaphilia is the love of the number thirteen. It's also the name of our anthology series which explores the more shadowy corners of romance and erotica. There will be 13 volumes in total, each of which will be released on a Friday the 13th.
Pen and Kink Publishing and our anthology editors welcome submissions from writers of all backgrounds (including, but not limited to, race, color, religion, gender/gender expression, age, disability, and national origin), and are always looking for submissions with diverse characters.