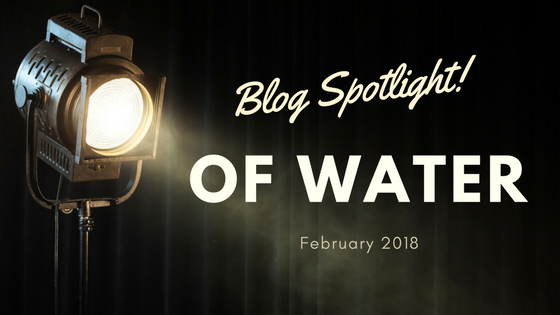 This month we shine the spotlight on Of Water by Cori Vidae. This beautiful short story is about a broken woman and how she remembers to live again. It has a slight paranormal twist that makes it interesting.
Today Cori tells us about her Under Glass series and how Of Water came to be.
About Erotica Under Glass and "Of Water"
By Cori Vidae
I love the idea of making the act of writing, which is usually a very solitary and lonely thing, social and interactive. A collaboration between the reader and the writer–wait–more of a collaboration. Stories are already collaborations between the reader and the writer, but I wanted to find a way to include the reader earlier on in the process. Something like what Harlan Ellison's 'Stories Under Glass' where he'd go to a bookstore and write a story in its window, or like Elizabeth Barrett's poetry fishbowls where she accepts prompts and has a whole great system to cyberfund her poetry.
Alas, I can't write live like Harlan because I'm a pseudonym. I mean, I considered doing some sort of live streaming thing where people could see what I was writing but not my face… but would anyone actually want to watch that? I have my doubts.
And I'd love to do something like Elizabeth does, but the model she uses would be difficult to adapt to work with short stories and novellas rather than poems.
So I came up with 'Erotica Under Glass'. It's an ever-evolving system that mixes some bits of Harlan's system with some bits of Elizabeth's and comes up with something that's slightly different than both.
It's a little complicated (I need to work on that) but as part of the Erotica Under Glass process I accept prompts from my readers and then use those prompts to write stories. In 2015 my Erotica Under Glass theme was 'She's on the bottom' and one of the prompts I received was from Anna Kyle who sent me this picture:
It was beautiful. I was actually kind of intimidated by it–I wanted to make sure that the story I wrote not only did the image justice but also would be one Anna would like.
The result was "Of Water". It's the story of a woman who is drowning in depression but finds a way to keep going, at least one more day, in part through a mysterious erotic encounter. I'm very proud of the quality of the prose of this one and excited that readers and reviewers also seem to enjoy it. But it never would have come to be without Erotica Under Glass and Anna's picture prompt.
Cori Vidae has over fifteen years experience in various roles in the publishing industry. In addition to Pen and Kink Publishing, she currently runs a micro press specializing in another genre–one within which she is an award-nominated poet and hybrid author.
In the past, she has used various pen names to provide top notch erotic story content to some of the biggest names in the adult entertainment industry, written well-reviewed erotic novels, worked as an editor for a romance small press and even, once upon a time, was a cover model.