We continue to celebrate the second anniversary of the release of Rough Edges today by giving you a taste of this month's spotlighted story, Lady of Lacrymosa by Brantwijn Serrah.
When Katarina started her shift in the saloon, it was a night like any other. That was before the silent lady gunslinger strolled in through the batwing doors. Katarina can't keep her eyes off the woman, and when the gunslinger starts to dance, sensuously spinning a black magic spell, Kat finds herself hopelessly, utterly lost. By morning, nothing will be the same.

The West gets weird, the night the strangers come to Lacrymosa.
Lady of Lacrymosa
by Brantwijn Serrah
It was something in the way she danced. The roll of smooth hips; the turn of long legs under rich blue denim. These were the motions—the promises—that roped in Katarina Dawson and put her at the mercy of a lithe lady gunslinger the night the strangers came to Lacrymosa.
They strolled into Cain's saloon, a minute after sunset on a Saturday evening. Four of them. The one in the lead—a hard case, a "big gun"—loomed like a bear, and wore a fine couple of Colt Peacemakers at his sides. By contrast, the men flanking him were lean. The one on his right scanned the bar with cool, icy eyes set above sharp-edged features, his longish hair the fine color and texture of corn silk. The pardon his left looked not-so-much skinny, but rangy and sly, like a coyote. Despite their intimidating appearance, though, they were all three rather handsome, and by the way the other saloon girls studied them, Katarina figured she wasn't the only one to think so.
Last came her, and she was…different. While the rest of Cain's girls remained curious over about the cowboys, Katarina considered the fourth newcomer. The lady gunslinger. She lingered, quiet, behind her men. A coy smirk came across her face as she cast a long gaze around the room, and she appeared to be pleased with what she saw.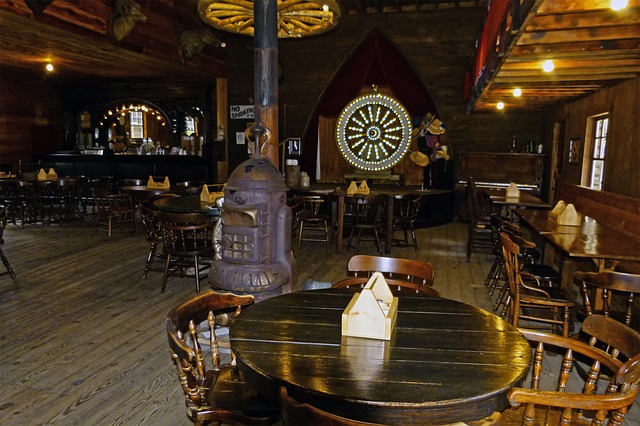 She wore a cowboy's hat the color of ivory, matching her clean leather duster. Her gun-belts hung low on her hips, and the grips of her pistols were also white, maybe mother-of-pearl. Katarina marked the woman's fine boots, and the loose, clean cotton of her shirt—a man's shirt open at the throat. Awfully fine fixings for any sort of trail hand or outrider. She might have been the big gun's woman, or she might be the head of the posse herself.
She had a heavy pendant on underneath: it looked like the letter J, or maybe a hanging sickle, with two crossbars on the shaft. Blackened and burnished, the charm had to be made of heavy pewter.
Lady Gunslinger—Katarina gave her the name with hardly a thought—styled her dark hair in a loose, fat braid tumbling over one shoulder. It gave Katarina the absurd, childish urge to take the chocolate-colored plait and tug it, pestering like a girl in school. She pulled her own coppery-red hair into a lush tail and combed her fingers through it, absent-minded, self-conscious.
Oh, don't be a silly bitch, Kat! she scolded herself.
Only then did Katarina realize she'd been standing stock-still ever since the strangers walked in, staring at them the whole time like a gawp-eyed kid. So had everyone. The whole bar had wound down to a stop, holding their collective breath, no doubt all thinking the same thing.
Hard men like this meant trouble. Strangers wandering in with cold smiles and shooting irons usually meant the neighborhood was going to see a fight.
Then the big gun brought a fist down hard on the bar. "Well let's have us some drinks, shall we?"
His tone, jovial, surprised everyone. Bellowing a hearty laugh, the man called for glasses all around, and Cain's grew animated again. Men gave a cheer and stomped their feet, and the other saloon girls rose in a flurry of satin skirts to serve libations. Any unhappy speculation disappeared just like that; folks who treated the whole bar to drinks tended to make a lot more friends than enemies.
Kat didn't stand. The men at her table all stared at her with expectation, but she pretended to take no notice, and tried to look distracted by something less incriminating.
Finish reading Lady of Lacrymosa and get six other romantic western stories when you buy Rough Edges.
Nothing is sexier than someone who knows what they want and has the confidence go after it. This anthology is crammed full of hot romances featuring those kinds of rough-around-the-edges alpha personalities–stories about the kind of men and women who ride horses during the day and their partners at night, who speak few words but mean every one of them, and who would never break their own personal code of honor. We're talking about cowboys and cowgirls. This anthology contains seven romances with a Western theme that run the gamut from sweet to sizzling.