If you shop at Kobo between October 26th and 30th you can take an additional 40% off the cover price for Rough Edges by using the promo code 40SAVE at the checkout. Don't miss out on this chance to add this steamy cowboy romance anthology to your collection for less than the price of a cup of coffee. Get your copy now!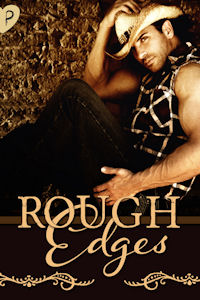 Nothing is sexier than someone who knows what they want and has the confidence go after it. This anthology is crammed full of hot romances featuring those kinds of rough-around-the-edges alpha personalities–stories about the kind of men and women who ride horses during the day and their partners at night, who speak few words but mean every one of them, and who would never break their own personal code of honor. We're talking about cowboys… and cowgirls.
"This erotic anthology of adventure in the Wild West tradition gives new meaning to the phrase 'bucking bronco.' Not to be missed, Rough Edges will make you want to save a horse and ride a … well, you get the idea."
"'Yeehaw, we done got us a gold mine here!' This amazingly sexy anthology of adventure, romance, sensuality and all the good stuff definitely delivers"
Don't forget — use promo code 40SAVE at checkout to take 40% off the cover price.