A lot of research goes into writing a story, especially if the author hasn't been to locations in the story or experienced some things the characters go through.
In celebration of the release of Lesser Gods Looking For Love, Wendy Sparrow shares some secrets about faking it.
Romance Authors Know How to Fake it
By Wendy Sparrow
It can't be denied that once I was there, it was basically what I'd expected, but, also, not quite…thrilling. If you know what I mean… Not the crest of a roller coaster where you can't decide whether to laugh or scream. Possibly not worth the cost. It wasn't bad. It just wasn't a fast ride that made my heart pound. But, my attempt to fake it previously—had been spot on, and that was satisfying in itself. Also, sometimes, it's the experience and not the event, and doing it surrounded by family was cool.
But, if you read the first novella in this series, I bet you'll never guess that I hadn't actually done it prior to writing it.
Then again, I don't know how many of you have been on Seattle's Big Wheel, the Ferris wheel just off the downtown pier, to be able to tell the difference.
Being able to fake a knowledge of places and jobs we've never experienced is somewhat crucial to writing. The whole idea of writing what you know is very limiting in the age of the internet. With the world at our fingertips, why stick to what we've experienced personally?
So, how do writers do it?
Very carefully. Because, odds are, someone reading it will be able to cry foul if you blunder it completely. I once wrote a story set in San Francisco, and I thought I'd covered all my bases—including mental justification for a tour of Alcatraz that wasn't typically available, but did rarely happen. Then, one of my beta readers mentioned that he didn't remember the fast food chain I'd mentioned being in Oakland, where he'd formerly lived.
Wuh?
Sure enough, that chain wasn't in the Bay Area. I'd assumed it was a sure thing and, while I'd researched the heck out of their menu, I hadn't bothered doing a search for locations. That wasn't all. My Alcatraz tour got some heat from a reader in a review because she'd been there, and it wasn't available. It'd killed the authenticity for her. Since it was in a review not directed at me, I didn't feel right sticking my nose into it and saying, "But sometimes…"
My faking it has improved since then, in my humble opinion, and that's partly because the Alcatraz thing has stuck with me.
Google Maps is a godsend for some locations—as are blog posts from people who've been there. One of my recently written novels took place partly in the Winchester Mansion. I watched hours and hours of footage taken by film crews and individuals. I studied it forwards and backwards. I still intend to go there someday soon to make sure I got it right, but I did my due diligence as well as I could from a distance.
Careers can be equally difficult. In another published novella, my two main characters are high-level computer geeks. I'm sleeping with one such creature so I thought I could fake it…the career, I mean. My husband practically encouraged it (still talking about the writing) right up until I tried to get him to commit to a nebulous possibility.I said to him, "I need my character to be able to ask a question at a convention panel on computer security that won't become immediately dated, but it needs to make her sound smart." "What panel? About what? Why is she asking it?" "That doesn't matter." His brain nearly exploded.
I kid you not, run out and read my hacker romance right now, because that thing was nearly my divorce. Never again. Computer geeks can't always commit to nebulous ideas from creatives like that, even if they're sleeping together. My husband later pointed out an open submission call for a similar thing, and I almost tore his head off with, "Are you kidding me? Never again!" Because, whoa… I actually had to seek out the advice of another computer geek, which accounts for my marriage lasting more than two decades.
Sometimes, we're lucky enough to have friends who help us fake it. Because if you can't fake it with friends, then who can you fake it with, amirite? Recently, I had a friend on Twitter help me with a fake Latin motto for a fake agency that I'd created. One of my novellas about a veterinarian just happened to land in the hands of an editor who'd formerly been a veterinarian assistant—thankfully, because, my faking it was still in the early days back then. I frequently see other writers on social media reaching out for help in faking it. Faking it isn't easy, but it can be done, with help, and with a lot of research.
But, back to the Big Wheel. For spring break in 2018, my family and I stayed in a houseboat on Lake Union. (Think "Sleepless in Seattle" and you'll be on the right track.) I conned everyone into going on the Big Wheel. When we got into the cars, and I looked around, it was just as I'd pictured it. I felt a deep surge of satisfaction, because, I'll tell you what, sometimes successfully faking it is better than the real thing.
But only when it comes to writing.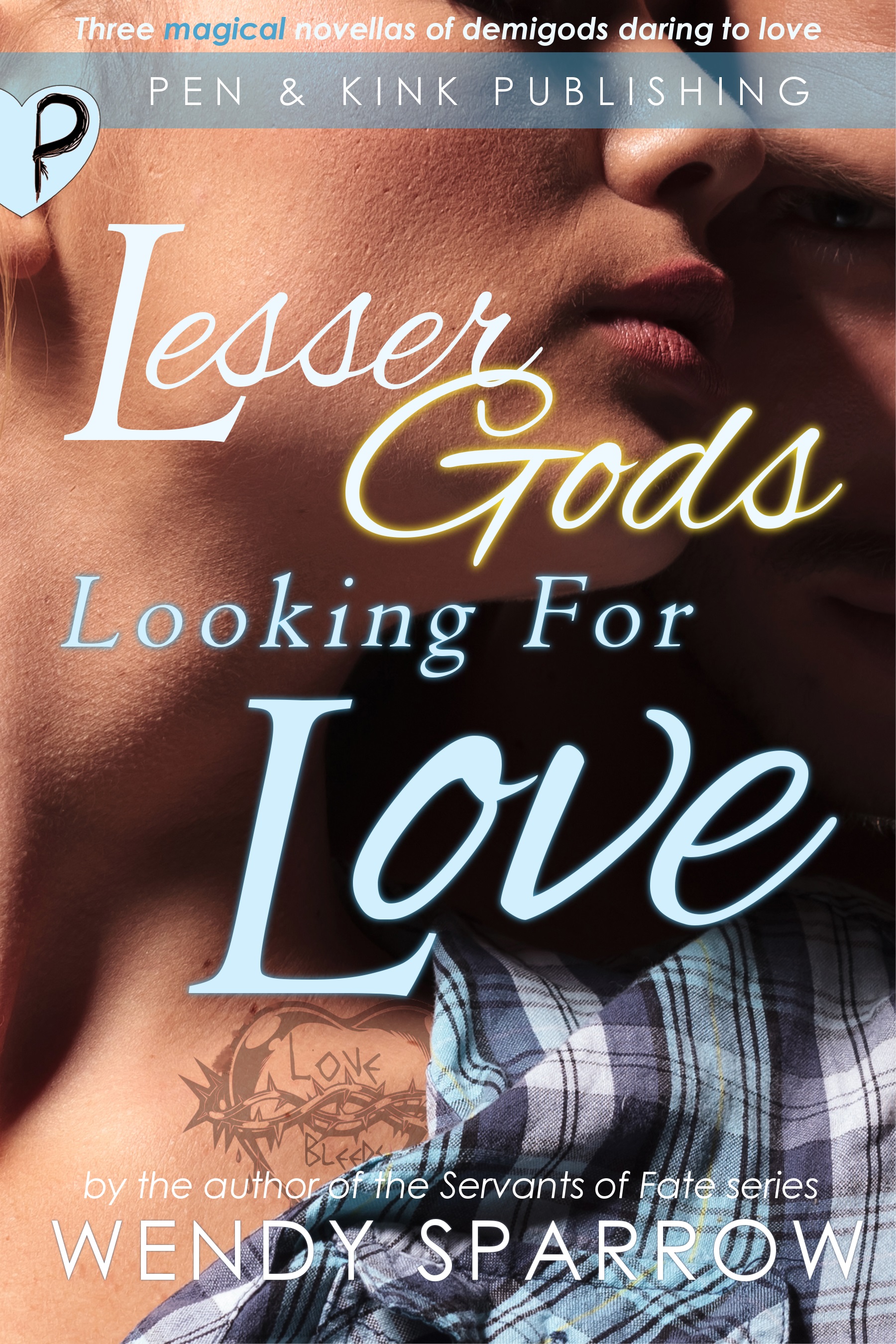 Aster recognized his beautiful Lady Death even though she didn't know of her divine birthright. But Chandra doesn't welcome the demigod of fertility's announcement of her heritage with open arms. Having being used in the past, it's not too much to want to be loved for herself, is it? If Aster can't convince Chandra that she's all he desires, it might just kill them both. 
Pain has been Corbin's companion and he knows he's living on borrowed time before. As a bounty hunter, he's familiar with the chase, and he's had a good run. The countdown clock is down to the final hour when Tam finds him. She seems too good to be true…especially when she kisses him senseless. Stealing her away to his cabin could save both their lives, but it will cost him his heart if she doesn't forgive him for abducting her.
Despite being a demigoddess of love, Allie is not soft and tender. Donovan recognizes that around the time she's got him pinned to her sparring mat. He keeps telling her she could do better than a one-eyed, burnt-out fighter, but she wants him and she isn't shy about it. The demigoddess of love fell for him the moment she saw the growly need in Donovan's expression, but she can't war for his heart if he isn't willing to fight for hers.
These demigod novellas are sexy-sweet and filled with sassy banter and feisty heroines. They have a heat rating of "not your mama's romance, but she'd appreciate a copy so buy her one." 
Don't forget to add it to your Goodreads shelf!