Pen and Kink Publishing is proud to announce the release of two new Erotica Under Glass stories. Erotica Under Glass is both a series name and an ever-evolving process by which Cori Vidae makes writing erotica interactive. Ish. As part of that process she intends to giveaway at least one story from every theme for free. These two kinky tales are the free titles associated with her "She's on the Bottom" theme.
"Not even if you were the last men on Earth!" Liv shouted the last time she'd seen Jacob and Liam, but now the world really has come to an end and she doesn't have anywhere else to turn.
 Get it Free Now
Or click here now to read more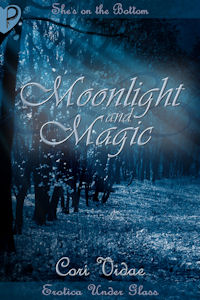 When a fairy happens across a human in the heart of the forest she decides to have a little fun with him. The resulting night is one of moonlight and magic that neither of them will soon forget.
Or click here now to read more
It's possible that Amazon will take a little while to change the price over to free, so if you go there and they are still charging for the book please try a different distributor.