Sometimes resistance is good–a bondage-loving submissive struggling against the things that bind her. Sometimes resistance is necessary–a rebel alliance fighting back against an evil empire. One thing it never is, however, is easy.
This anthology will explore resistance and rebellion within a romantic context—because sometimes love has to take a stand—but it will also include stories of refuge because you can't fight all the time, and sometimes love is the only thing that brings you peace (or at least a place to breathe).
We want stories of feisty park rangers fighting the good fight, couples falling in love at protest marches (bonus points if they start out on opposite sides of the issue) and people forced to choose between what is right and what is easy. We want stories where a character's only emotional refuge is within the arms of their lover and ones where couples work together to do the things they believe will make the world a better place.
We're open to stories at every heat and kink level, and any sort of pairing (or more-ing) that you can imagine. Stories must have a real conflict and tension with a HEA or HFN ending.
Rebellion and Refuge: resistance is sensual.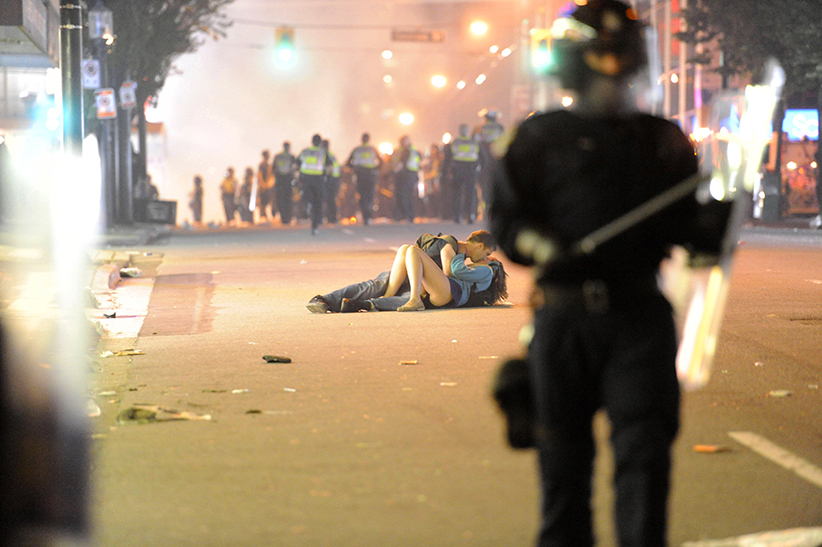 (Rich Lam/Getty Images)
The details:
• Stories between 1,000 – 15,000 words long (query for longer)
• Reprints accepted but not preferred. When submitting a reprint include information about its original publication in your submission email.
• Open to all gender pairings and multiple partners
• Simultaneous & multiple submissions = No
• Kink is welcome but not required
Payment: $10 USD and a paperback copy of the anthology in exchange for the non-exclusive right to include the story in both the print and electronic versions of the anthology.
Open submission period: October 1, 2017 – November 30, 2017
Expected publication date: Autumn 2018
Submission details will be revealed closer to the submission window opening
All profits from the sale of this anthology will be donated to the ACLU and CCLA.
About the Anthologists:
Laura Harvey is an editor, writer, bibliophile, horsewoman, historian, teacher, debate coach, nerd, DIY junkie and occasional rescuer of kittens. She holds a BA, MA, and is ABD, making her an exceptional asset in Trivial Pursuit. She loves reading so much that all of her handbags share one crucial ability: fitting a standard paperback or Kindle. She lives in northern California with a menagerie of beasts (dogs, cats, horses, and family members). Her previous anthology efforts include Demons, Imps and Incubi from World Weaver Press and Legendary from Pen and Kink Publishing.
Cori Vidae is an editor, anthologist and the founder of Pen and Kink Publishing. She works as an Assistant Editor at World Weaver Press and also occasionally finds time to write things. You can find her on Twitter at @CoriVidae or on her website at http://www.CoriVidae.com
Note from Cori: That photo was taken at the site of a hockey riot, not a protest… but it still captures the feeling we're going for.