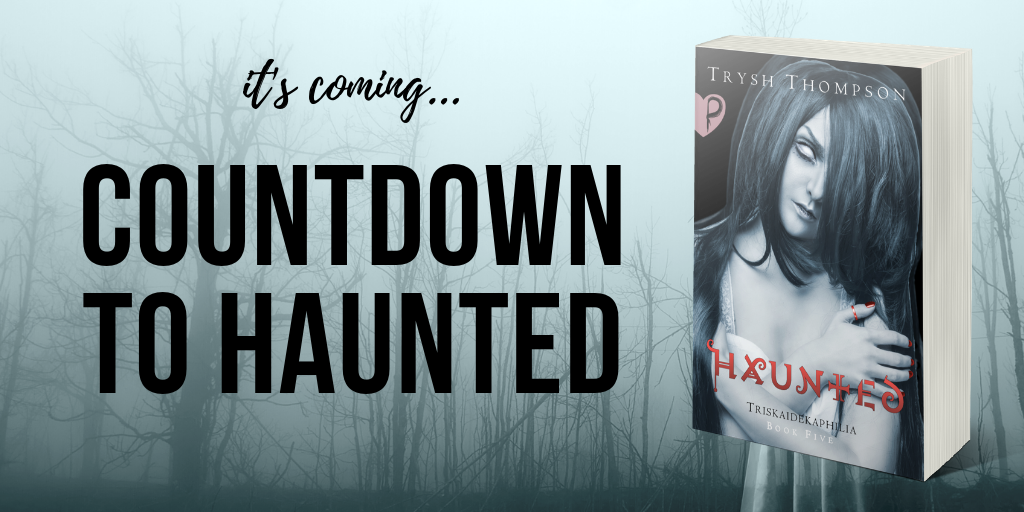 Two days until Haunted is released!
The anthology with vengeful female ghosts is the fourth in our Triskaidekaphilia series. Because we're so excited, we've been giving you a sneak peek of the stories as we countdown until the September 13th release. Don't forget you can pick up the e-book for a special price until release day.
Today we have The Belle of Randolph Hall by Clint Collins.
The Belle of Randolph Hall
by Clint Collins
"You think your ghost is a… voyeur?"
I sipped my green tea from a corner table at the Haiku and Honey Tea House and watched as my newest client just smiled and shook his head.
"I don't know what to think, but I need this ghost to disappear—and soon. Cancellations are killing me." He leaned back in his chair and looked straight at me with cool blue eyes that gave me some delicious tingles. "The psychic I called in Charlottesville, Madame Barzinski, said you were the best. That you're like a magnet, that ghosts will come to you, Miss Trillon."
"Please, call me Emma, and yes, they do have a way of finding me… and me them. Sometimes I can sense them, feel their presence. I'm able to hear their stories, understand why they are still lingering with us."
Michael Randolph, who owned Randolph Hall Bed and Breakfast just outside this small town in central Virginia and had received enough late-night calls from frantic couples to make him contact me, showed me his cell phone.
"I dread hearing this ring at night, Emma. People who book rooms at Randolph Hall don't want to be bothered on a romantic weekend." He put down the cell phone and listlessly stirred the chamomile tea he hadn't tasted. "Word is spreading on all the review sites my bed and breakfast is haunted, so now the few bookings I get are all these intense guys with cameras and recorders."
My client rubbed his temple and frowned, but attempted a weary smile. "So much for 'Virginia is for Lovers,' huh?"
I had to laugh a little at that. "Let's hope we can find a way to bring some lovin' back to Randolph Hall."
He nodded and finally took a sip of tea. Other than looking a little tired, he still resembled the handsome man in his mid-forties pictured on the website, dashing in his chef's apron, holding a glass of red wine. He seemed like a dark-haired Anthony Bourdain—and just as dangerous.
He was pure catnip to me. My Inner Sex Kitten purred like a pink Ferrari when I looked at his picture and I couldn't restrain a little love growl. Emma, I will give you this one as you've been a good girl for a while now.
I opened my notebook and clicked my pen a couple times to make me focus and keep my mind off the fantasy of ripping open that double-breasted chef's apron in his kitchen and going right for the main course.
"You say your ghost might be a voyeur. What makes you think that?"
Clint Collins's horror fiction can be found in the very first Horror Writers Association anthology, Under the Fang, and other anthologies such as Fifty Shades of Decay, Bill of Frights, Cthulhurotica, and Transformed. Clint also co-edited the anthology Snowpocalypse, featuring stories of an endless winter. Having been an editor for both the US government and private industry, Clint now lives in Indiana, a state where ghosts patiently wait in abandoned farmhouses and mysterious rituals occur deep in late-summer cornfields.
Hell hath no fury as a woman scorned
Not all ghost stories are simple sightings and things going bump in the night. Not all ghosts are left behind because of simple unfinished business. No, sometimes that unfinished business is messy, complicated, and even deadly.
These are not your typical ghost stories—they are desire, love, and most importantly, revenge—all rolled into one. Revenge for a love stolen away, a love that never was, a retribution for a horrific act, or even an act of war.