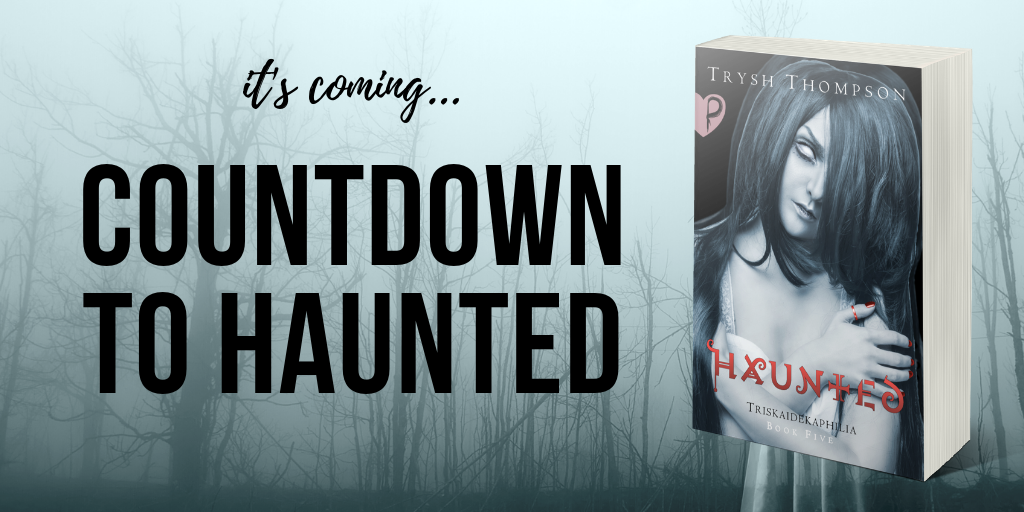 We can't wait to share the fourth book in our Triskaidekaphilia series, Haunted.
Because we're so excited, we're going to give you a sneak peek at the stories as we countdown the days until the September 13th release.
Today we share Ghosted by Wendy Sparrow.
Ghosted
by Wendy Sparrow
Logan opened the door to the first and last person he wanted to see today of all days.
Della Maple stood there, biting her lip—her beautiful brown eyes narrowed in concern. She was sweet temptation wrapped up in a blue-jeans-and-concert-t-shirt package. Her glossy black hair was up in a haphazard knot of some kind, held in place with a #2 pencil, and that just added to her appeal. This was how she looked on a normal day, and Logan could picture Della with her feet tucked up beneath her as she graded papers on the couch while he sat beside her.
Logan hadn't deserved Della a week ago, and he sure as hell didn't deserve her now. Not today of all days. It was his unfulfilled need for his neighbor that'd gotten him into this unholy mess. Logan should approach celibacy with all the fervor of a first-day monk.
"How was the funeral?" Della asked.
He shrugged, rather than admit that it was hell on Earth.
"I guess it was a funeral. Those are never a barrel of laughs." She looked inside with raised eyebrows and the clear expectation of being invited in.
Logan Frieg had lived a careless and sloppy life prior to today. That was about to change. He wasn't going to do anything without thinking of the consequences… especially when it came to women—and that went double for the woman in front of him. Even letting her into the house might have consequences for their friendship, and that relationship felt crucial. He wanted that to stay just as it was, and Logan's bleak mood practically guaranteed he'd say something he regretted.
Della frowned, and nudged him aside before walking by him into his house.
Holding the door, Logan continued to stare at his front porch as his good intentions crashed at his feet. Seriously, he hadn't lasted even a minute? All he'd had to say was that they shouldn't see each other ever again, that he was a blight on humanity, and shut the door. That was it.
"It wasn't your fault," Della said from behind him.
Maybe they could just continue the pattern Della had set herself of friendship and nothing more. At least that plan was easy to carry out. Shutting the door with a shove, Logan turned to her.
Della had her arms crossed and her lips pursed as if she were a schoolteacher staring down a recalcitrant student bent on mischief. Maybe she used that look at her work with her fourth-grade students. It probably didn't work on them either. She was simply too sweet and cute.
"I was the one she texted," Logan said, folding his own arms.
That final text rattled around his brain, accusing him. A drunk Eva had texted him to pick her up, saying, "Ned a ride. Drunk. UR wit her I bet. 4get it."
He was going to hell on a bullet train because, even after today, Logan couldn't think about that text without wishing he had been with Della at the time—and not just in bed with his phone turned off. He was a masochist for wanting to remain friends with the beautiful woman in front of him. Though, his attempts to get past this crush on his neighbor using other women had been an unmitigated and fatal disaster.
At home in the Pacific Northwest, Wendy Sparrow writes for both an adult and young adult audience in many genres but always with a happily ever after. She has two wonderfully quirky kids, a supportive husband, and a perpetually messy house because she hates cleaning. She's an advocate both online and in her community for autistic children in addition to actively trying to raise awareness about obsessive-compulsive disorder. Most days she spends on Twitter procrastinating doing the dishes.
Find her online on her website, blog, Twitter, and Facebook.
Hell hath no fury as a woman scorned
Not all ghost stories are simple sightings and things going bump in the night. Not all ghosts are left behind because of simple unfinished business. No, sometimes that unfinished business is messy, complicated, and even deadly.
These are not your typical ghost stories—they are desire, love, and most importantly, revenge—all rolled into one. Revenge for a love stolen away, a love that never was, a retribution for a horrific act, or even an act of war.