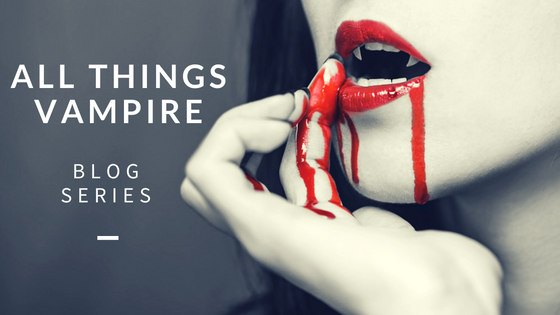 Vampires have held our fascination for hundreds of years. They have gone from something people believed were real, to a fictional creature to fear in the night, to lost souls, to lovers.
To celebrate opening to submissions for Triskaidekaphilia 2: Ravenous, Pen and Kink Publishing is hosting a series on vampires to get you in the mood.
This week Christine Belgarde gives you suggestions on a vampire night to tide you over until the release or, if you're submitting, get you in the mindset.
---
So who's excited for the new vampire anthology, Ravenous that's comin' out? If you're like me, you're pretty damn psyched! I don't know if it's my love of all things Halloween or the fact that I've always been drawn to the "dark and twisty" side, but I have always been fascinated with vampires. And the more tortured and brooding (and hot), the better! Personally, I think vampires and romance go hand-in-hand—a vampire's kiss, what bliss! So, here's my idea for a great night of vampire yum—dinner and a movie. But first . . .
Song of the day
. . . a little Powerman 5000 "V is for Vampire". It's a great song to rock out to while you're cooking tonight's dinner.
Movie
Only Lovers Left Alive is directed by Jim Jarmusch and stars Tilda Swinton and Tom Hiddleston. Tom . . . yum. Anywho, this movie is dark and brooding and frightfully entertaining. Perfect movie for a vampire-themed night.
Dinner
This is a favorite recipe that I do every year for Halloween.
Bat Wings
Ingredients

20 chicken wings (about 3 1/2 lbs total)
1/2 cup soy sauce
2 teaspoons grated fresh ginger or
1/2 teaspoon ground ginger
1 teaspoon five-spice powder
1/4 teaspoon crushed red pepper
2 cloves garlic, minced
Directions
1. Place wings in a plastic bag set in a shallow dish. In a small bowl stir together soy sauce, ginger, crushed red pepper, five spice powder and garlic. Pour over wings. Close bag and toss to coat. Chill in refrigerator several hours or overnight, turning bag occasionally. Remove wings from bag, reserving marinade.
2. Place wings on a foil-lined 15x10x1-inch baking pan. Bake, uncovered, in a 450-degree F oven for 10 minutes. Brush with reserved marinade (discard remaining marinade). Bake 15 to 20 minutes longer or until chicken is tender and no longer pink. Serve with Swamp Dip. Makes 20 appetizers.
Note:
I usually stretch out the wings before marinating and cooking. This way, they look more like bat wings. Also, brushing on the reserved marinade, before and during cooking, helps to deepen the color of the wings.
Swamp Dip (for batwing dippin')
Ingredients
8-ounce sour cream
3 tablespoons coarse-grain brown mustard
Directions
1. In a small bowl stir together sour cream and mustard. Garnish with fresh whole chives. Serve with bat wings.
Simple Sesame Soy Oriental Noodles
Ingredients
1⁄2 lb udon noodles or 1⁄2 lb soba noodles
1 1⁄2 tablespoons canola oil
2 teaspoons dark sesame oil
2 -3 tablespoons soy sauce (more or less to taste)
1 tablespoon honey or 1 tablespoon rice syrup
1 teaspoon grated fresh ginger
1 teaspoon rice vinegar
2 -3 scallions, sliced
Beverage
Vampyre Seabreeze Cocktail
So when I make Seabreezes, I make 'em by the gallon—because they're just that yummy. And no, I don't drink the entire gallon myself . . . I've got friends, dude.
Now, anyone who's had a proper Seabreeze knows the color of the drink is more pink in color than red—means the vodka's working. Then how did I get my cocktail such a lovely shade of red, you ask? There's a vodka that's actually red in color, Vampyre Vodka—boom! Vampyre Seabreeze Cocktail:
Ingredients
46 oz Cranberry juice (entire bottle)
23 oz Pineapple juice (half a can)
325 ml Vampyre Vodka (half a bottle)
Directions
1. Mix all ingredients together . . . shaken . . . not stirred.
Dessert
Vampire Cookies
Ingredients
3⁄4 cup butter, softened
1⁄2 cup sugar
1 large egg
1⁄2 teaspoon vanilla extract
1⁄8 teaspoon almond extract
1 1⁄2 cups all-purpose flour
1⁄4 teaspoon salt
1⁄2 cup red jam (raspberry or strawberry)
And there you have it!
An entertaining and delicious night of vampire-themed fun. Enjoy!
---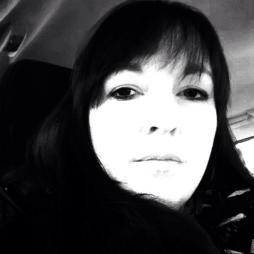 Writer, college tutor, and blogger. Dabbles in hocus pocus, loves black cats and vodka. Christine Belgarde enjoys blogging about all things Halloween & the creepier side of life.
You can find Christine at her website, on Twitter, and Facebook.