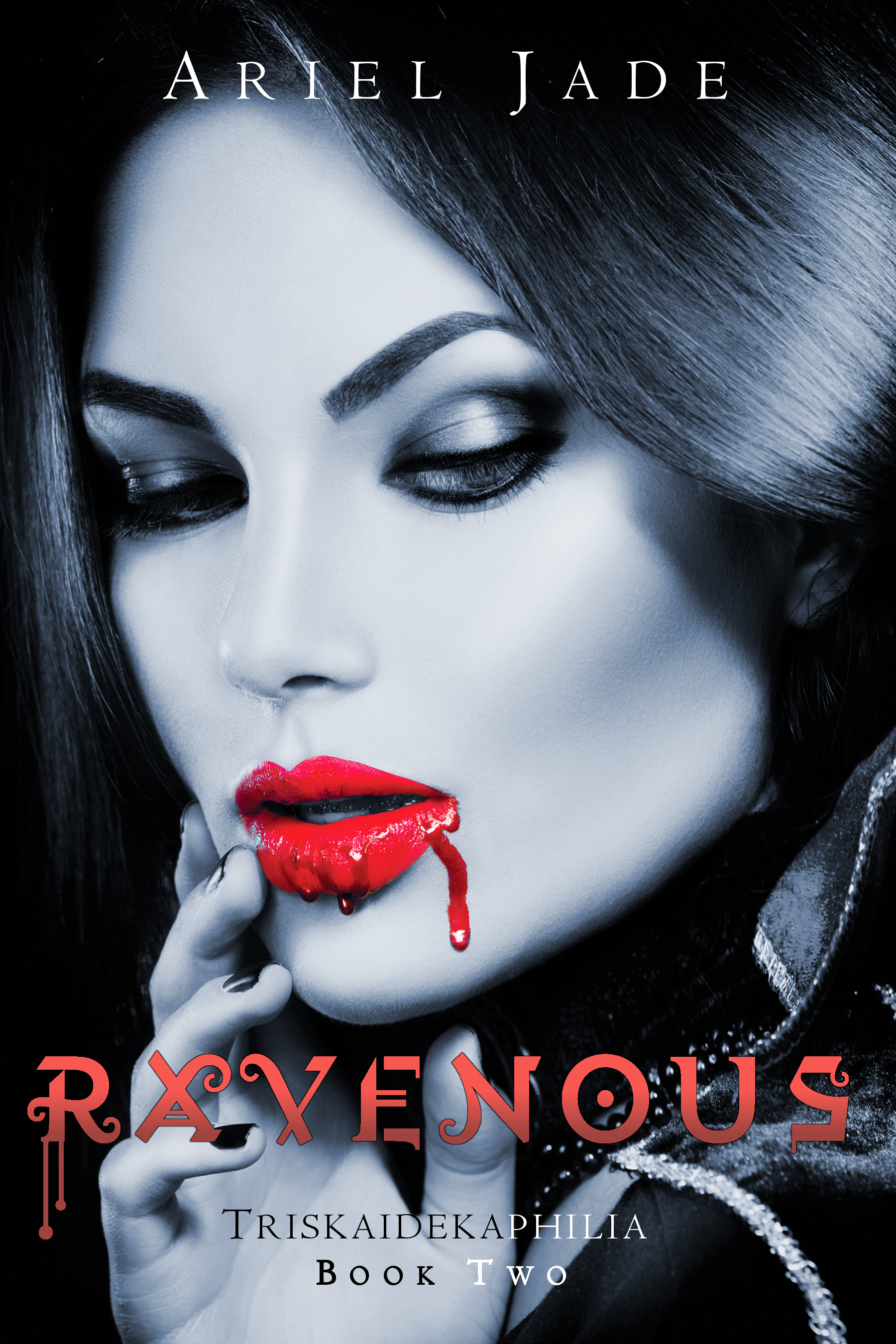 Dark. Brooding. Tortured. Sexy.
Vampires are a mystery, morphing through history from maligned villains to sparkling saviors and back again. They can be the ultimate bad boys, the supreme seductresses, or the evil monsters. They fascinate and repel us at the same time. What other creature can steal into your bedroom in the depths of the night to stalk or protect? What other ancient being is so accessible yet so powerful? What other enigma is desired as much as feared?
Cross the threshold into a world of insatiable heroes and voracious heroines. RAVENOUS explores saucy, sexy, and sweet tales: of forbidden vampire/vampire hunter love, vampire threesomes in space, kink as only a vampire could enjoy it… and so much more.
Edited by Ariel Jade and with contributions from Wendy Nikel, Jaap Boekestein, Sara Dobie Bauer, Violet R. Jones, V. Hummingbird, Dale Cameron Lowry, R. Michael Burns, and Tiffany Michelle Brown.
Don't forget to bring your garlic–just in case.
"I love PNR and anything to do with vampires and the undead so after reading the blurb, knew this would be right up my alley.
Theres an eclectic array of stories to suit all vampire lovers and they range from mild to kind of horrific. You have your alien vampires, your run of the mill romantic vampires and then there are the vampires who simply kill humans for the sake of it. Each story has a different way of depicting their version of what they think a vampire is or how they should act etc.
It's not just the blood and gore side of things either, again each story has the romantic vibe, some more erotic than others and I kind of think this anthology works well like that so that maybe you're interested in a dark story but afterwards feel you need something to lighten your mood, then you have that range. Don't get me wrong though, these aren't sweet reads, they're not for the faint of heart, but, they are for those that are looking for something a little different and pardon the pun, something to 'sink your teeth into.'"
"Hot. Intense. Wicked. Must read.
Sexy vampires. Snarky vampires. Space vampires. Yes, please! This anthology has them and more. Each story immerses the reader into a vivid new world. Fair warning, these are not cuddly vampires. Some are villains, while some are heroes, and some are a delicious touch of both. All are bloodthirsty and masters of desire.
Throughout Ravenous, not one story did I want to stop reading. Flawless pacing and tight writing filled with voice carried from one story to the next. It was a constant 'just one more' until I hit the end. I'm eager for more anthologies from this publisher."
"Hot, sexy vampires… what's not to love?
The standout story was, by far, Forever Dead by Sara Dobie Bauer. I absolutely love the forbidden relationship between these two men. Dario is just… yum. I'd let him turn me. (Not that he would, that's not his style. But still, I'm going on record.)
If you like your vampires hot and the sex even hotter, then this is the collection for you."
"Sex, romance, and vampires. What's not to love? This anthology was by far one of my hottest reads I have ever had the pleasure of reading. Each story grasps you by the heart and by the groin into a fantasyland of mystery and ecstacy…"
"Eight stories from eight talented authors – this was such fun to read! Eight ideas and eight styles make this one of those collections that you have to keep reading because who knows what the next story will bring!
From a holiday to revolution, these stories will help you look at vampires in a whole new dark 🙂 I cannot say which is my favourite as all are entertaining and the 'Top Five Reasons Why I Like Vampires' by the editor wraps it all up nicely.
Recommended for adult readers looking for some vampire romance and intrigue."
Always be among the first to know!
Whether it's a new release, a call for submissions, cover reveal or super sale you will always be among the first to know if you sign up for our mailing list. What's more, we won't clutter your inbox with stuff you don't care about--we will only email you when you we have something exciting to share, probably less than once a month.
Word Count: 55,000
Kink Level: Variable. Ranges from vanilla to intense BDSM.
ISBN-13: 978-1-988233-25-3 (Physical)
978-1-988233-26-0 (Electronic)